thursday, june 16, 2011
Back to the Dunes
I finally had a chance to get back to the dunes to do some shooting this week. This was a spur of the moment shoot, and we focused on some areas around the Devil's Bowl region, and a nearby Cedar forest.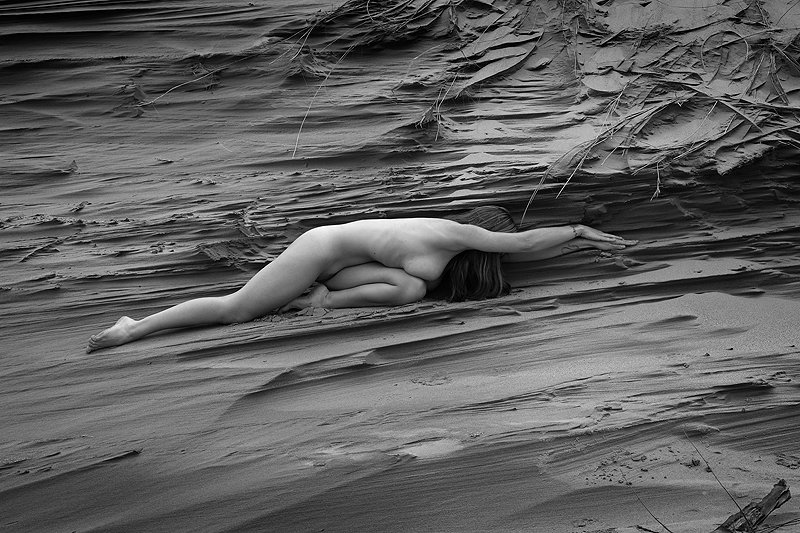 Our original destination was the hollowed out sand formation featured in one of my prior pieces, "October's Chisel" (left), and the images taken during the same shoot. Interestingly, this formation is almost completely gone, and has been filled in with drifts of sand.
We managed to make use of some of the remaining drifts, but then moved on to the ghost forest within Devil's Bowl. The majority of this shoot took place in that area. The skies were clear, and the setting sun made for some stark imagery, which helped to emphasize the desolation of the few remaining "ghost trees".
We then moved on to a nearby forest, where we managed to pull together a few shots, while fighting off mosquitos and listening to the howls of coyotes, somewhere in the nearby area. These are the first color images that I've added for this series, which I am quite happy with. The light was peering through the trees just enough to make the forest seem errie and mysterious.
I will be doing more shoots up there this year, and will be focusing on a few new areas, as well as taking some different approaches to the images this year.
Artprize, studio work, etc.
I elected to forego participation in Artprize this year, primarily due to time constraints. While I did have a great time last year, learned a lot, and am very supportive of this show, I really feel that in order to be competitive in this event, you have to be there every day, and pitch your work to the venues well in advance of the competition.
Additionally, there were some interesting thematic elements that seemed to play well to the public (judges) this previous year, and in the past - primarily, larger pieces always seem to be more appealing, and mosaics and gimmicky pieces seem to draw in a larger volume of votes. I wouldn't say this about all of the pieces, there were definitely some absolutely amazing pieces in the top 50, 100, etc - but there were also some that I feel had questionable artistic merit (is a 100 foot tall greeting card art? Or a guy blowing up balloons?). Of course, art is different to everyone. Not everyone understands what I'm doing either...!
I am working on a series of triptych pieces, which may work well for this show (and others), though I'd really rather not allow my pieces to revolve around appealing to a specfic show. This will be the focus of my studio work over the summer. That said, nothing usually goes according to plan, and I'll probably get a spark of something new and change direction by the next time I blog again...
Equipment For Sale
And lastly, before I forget, I am selling off some of my medium format equipment, as I rarely ever use it presently. This is my entire Pentax 67ii setup, including lenses, filters, body, viewfinder, extension tube, and a nice bag to hold it all. This is a great camera, with razor sharp optics, and great mechanics. It is built like a tank, and will do just about anything you could ask it to. Except maybe underwater - I'm not sure they build a housing for this beast.
I really hesitate to give this one up - but I bought it new and used it for about 10 rolls of film total over the course of 8 years, so it really doesn't contribute as much as it could have prior to me converting to mostly digital. It is in nearly new condition, and really a prize piece of equipment. Should they ever come out with a digital back for one of these... um... damn.
Check it out on ebay - the auction closes this Sunday.
http://cgi.ebay.com/ws/eBayISAPI.dll?ViewItem&item=120736889705